During that special time around fertility, pregnancy, birth and postnatal period Craniosacral Therapy supports the natural changes in the body. 
Any conditions that arise in this period – e.g. morning sickness, back pain, scar tissue healing and postnatal depression – can be safely and effectively addressed with Biodynamic Craniosacral Therapy.
Craniosacral Therapy is of particular benefit to newborns and babies for breastfeeding, settling, sleeping, crying, colic, constipation, reflux, premature birth or assisted deliveries.
Naturally I have also been seeing a lot of older babies, toddlers and children for many different reasons over the years - often for teething, digestive issues, allergies or asthma.  But likewise around different developmental stages - for example restrictions in crawling, walking or behavioural issues.  
As a body therapy (non verbally) it can be very effective for many emotional difficulties like anxiety (separation), anger, fear and traumatic experiences.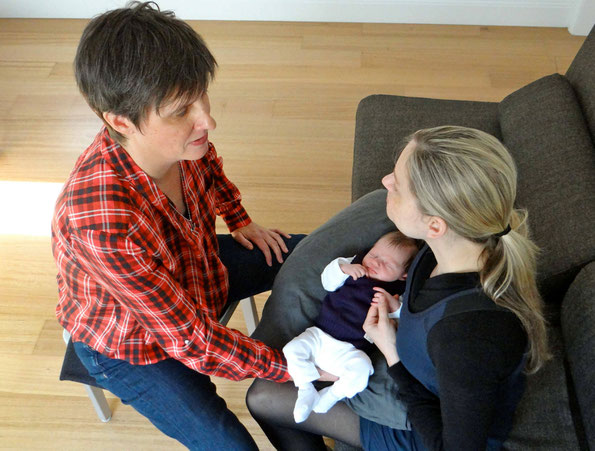 pregnancy
'Inga thank you for your input during the second half of my pregnancy. I found craniosacral therapy really beneficial, helping me to regain an even keel whenever I was struggling with the physical (and emotional!) changes that my body was going through. It meant that my overall experience of pregnancy was pleasant and straightforward. The craniosacral treatments have left me feeling strong, healthy and completely prepared for the upcoming birth.
I'd total recommend Inga to anyone wanting to make their journey through pregnancy not just trouble free, but as enjoyable and natural as possible.'
(Aroha @ 40 weeks)
newborn - unsettled
'We got Inga's details from our midwife who suggested we might want to get a treatment for our new born daughter as she was a bit unsettled after a stressful birth.
It was amazing seeing in our wee girls facial expressions things happening, she slept for quite a while after the treatment and seemed a lot more settled afterwards too. It was amazing.
I would highly recommend other parents, no matter what the birth was like, to get their babies treated, even if it is just one because it makes a difference. Thank you Inga for all your help.'
(Deirdre and Melah)
broken tailbone/coccyx - ventouse delivery
'I can't praise Inga enough for the help she has given my daughter and I post-delivery.  After breaking my tailbone in childbirth, as well as my baby girl needing to be pulled out with a ventouse, we were both in need of some readjustment through cranial sacral therapy.
The thought of going out into the wide world with a newborn is a daunting task – so having Inga come to our house to treat us both was fantastic. Her caring manner, expertise and midwifery knowledge give her a real edge and I will be calling on her again if my daughter or I have future health challenges.'
(Amanda and Paige)
irritable newborn - toddler - crawling -  development
I took my daughter, Emily to see Inga for the first time when she was only a couple of weeks old. Inga was calm and gentle with us both, and I was amazed (and so relieved), to see the changes in Emily. She became less irritable, easier to comfort and overall more content. 
I then made contact with Inga again recently, when Emily had just turned one. She wasn't crawling, but more importantly I felt like we had reached a standstill with her development. I was blown away to see how quickly and clearly Inga was able to communicate with Emily about what she wanted/needed. Within a couple of sessions Emily was making amazing developmental gains again - not only is she now confidently crawling, she is also standing on her own, climbing everything and just generally being a wee adventurer! But most importantly for me, I have watched as Emily's confidence has grown so much, and as a result her gorgeous, bubbly and loving personality has been able to really shine through. She is now taking on new challenges and trying so many new things every day, which we just weren't seeing before. 
I really can't thank Inga enough for helping Emily, and for helping me as well. 
(Libby and Emily)
settling, sleeping, spilling, teething
'Following the stressful birth of our daughter we were given Inga's details by our midwife.
After a few treatments with Inga, Carolina's reflux / spilling had noticeably improved and she was generally more settled. It was fantastic Inga was able to do the treatments in our home as I was unable to drive after a c-section.
At nine months Carolina cut four teeth at once and her sleeping deteriorated. We were all sleep deprived with a very irritable baby and at a loss of what to do! I remembered Inga had always said some babies might go through a particularly  rough patch while teething. To our relief Inga was able to help Carolina work through her teething problems and over the weeks following the treatments Carolina's sleeping is improving by the day/night and we have a much happier and energised baby. Inga's calming and caring manner is also very comforting for a stressed out first time mum!
Thank you for all your help Inga, we will be sure to return in the future if any further issues arise.'
(Amanda and Carolina)
newborn stressful labour- postnatal headaches
'Cranial-Sacral therapy had been recommended to me by numerous professionals so after a quick google I got in contact with Inga and have never looked back. She started treating my son after a long stressful labour and over the course of her very gentle treatments at my home there was a noticeable difference in the overall wellbeing of my boy. He is now an incredibly happy and settled 12wk old! Inga is knowledgeable, caring and seems to have a genuine passion for helping people - especially newborn babies. She even went above and beyond to help me with breastfeeding thanks to her midwifery past. I had a couple of treatments myself and the headaches I had been experiencing almost instantly disappeared. I would not hesitate to recommend her to anyone. Thank you Inga! You are a star!'
(Anita and Brody)
newborn - reflux - poor sleeper
'Inga has been amazing - our little boy had terrible reflux and was a poor sleeper but since having his treatments with Inga he has improved so much and is a happy wee boy!  Thank you so much Inga highly recommend you to everyone.
(Helen and Elijah)